HOUSTON GLASS SHOW
47th ANNUAL VINTAGE GLASS

AND

ANTIQUE SHOW AND SALE
AUGUST 20 & 21, 2022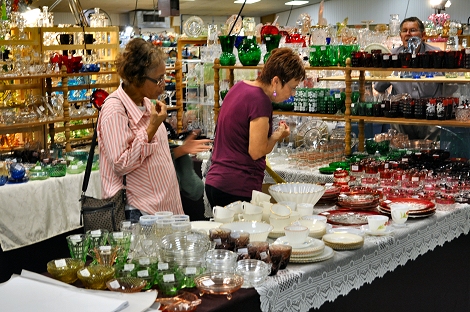 The City of Rosenburg, Texas

Founded in 1883, Rosenberg has grown from a town with one hotel, a grocery store and a saloon to becoming the next great escape. Located just 30 miles southwest of Houston at Highways 59 and 36, the City of Rosenberg offers a bounty of antique shops, restaurants, hotels and motels.



Local hotels:

The Days Inn, America's Best Value Inn & Suites, Traveler's Inn, Motel 6, Super 8, and La Quinta are all located near the Fairgrounds. The Hampton Inn and Marriott Spring Hill Suites are located at Hwy 59 and FM 762 at the Brazos Shopping Center.


For more information or show
related questions please contact:
• Chairperson - Nancy Norman

The Houston Glass Club is proud to announce its 47th Annual Vintage Glass & Antique Show and Sale from 8:00 a.m. to 5:00 p.m. on Saturday August 20, and 11:00 a.m. to 4:00 p.m. on Sunday, August 21 at the Fort Bend County Fairgrounds in Rosenberg, Texas.

This annual event is the highlight of the year for the glass club and its members. Countless hours go into preparations to make this show a success each year which has become one of the top rated glass shows in the south. Collectors and dealers from all over eagerly anticipate this annual event in order to add special one-of-a-kind treasures to their collections.

Over 30 dealers from across the United States will display more than 200 tables of the finest quality glass including: depression era glass, EAPG, American crystal, American dinnerware, kitchenware and pottery.

Another aspect in making this event successful has been the well-received general line antique show. This is held in the second building and features selected respected general line antique dealers from around the area. These dealers bring a wide variety of quality items including furniture, jewelry, textiles, linens, silver and more. One never knows what wonderful items will be shown in both shows and everything will be available for sale.

Again this year, we are pleased to announce that Leigh Ann Winter from Texas Silver Mercantile will have a booth in the general line show that will include a repair booth. Leigh Ann is a leading silversmith and glass repair expert in this area. She will be available the entire weekend, so customers are invited to bring glass, silver and costume jewelry items with them for repair or receive a consultation on the needed repairs and costs. This is a rare opportunity to get that special family treasure restored.

Food concessions will also be available on site, and will be catered by Crazy Cookers. The food is so delicious that many visitors to the show have made dining a part of their show experience. Their specialties include pulled pork, burgers, wraps, sweets and treats, sweet tea and lemonade, etc.

Admission to the show is $10.00 on Saturday for early shopping from 8:00 a.m. to 10 a.m.. Admission is $6.00 from 10 a.m. to 5:00 p.m. on Saturday and all day Sunday, and is good all weekend. Plenty of free parking. The Fort Bend County Fairgrounds are located off Highway 59 South, just ½ mile south on Highway 36. Don't miss this fun event! For more information, phone 281-240-0382.